To register for Environment, Health & Safety (EHS) sponsored training, or to review your training records, you must gain access to University of Michigan (U-M) My LINC (Learning & Information Center), our integrated, Web-based training and documentation repository.  To log into My LINC, you must have a U-M Uniqname or create a Friend Account.
IF YOU ARE A U-M…
THEN…

You mostly likely have access to My LINC as part of the U-M employment process. Therefore you can Log in to My LINC

Student
Sponsored affiliate
Visiting scholar
Volunteers

Your personal information (data) may not come over automatically to the My LINC data feed.

If you try to log into My LINC and receive an error message, then contact EHS at SafetyTraining@umich.edu or your ITS Help Desk with the following information.  Both departments may help you get your personal information into My LINC:

Name
U-M uniqname
Department
U-M ID number

Guest who does not have a U-M uniqname
You must complete the following steps to request a Friend Account.

After your account has been manually created in the My LINC system, you will be able to register for our training.
Tips to Navigate in My LINC
Use the following tip to help you navigate in My LINC.  The information provided here is only to enable you to register for the EHS courses you are required to take and help you download and print certificates of completion (diplomas).
Using My LINC

Searching in My LINC
The "Activity Search" box enables you search for training by course number or name.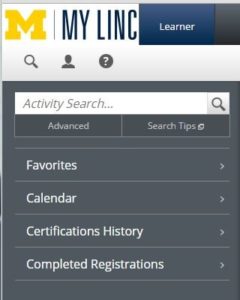 Viewing, Downloading, and Printing Your Transcript

To view your transcript:
At the top of the page, next to MY LINC, hover the cursor over Learner.
Hover over Learn.
Under the Learning Activity Reports heading, click Training Transcript.
To filter your completed training records by date or date range:
Under the Training Transcript heading, select the applicable option from the Select a year or date range.
To create and print a PDF of your transcript, on the right side of the page, click Export to PDF.
To print a course diploma:
Locate the course in your transcript.
To the left of the course name, click the Diploma
On the right side of the diploma page, click either Print or Export to PDF.
For more information about My LINC, contact the ITS Help Desk or refer to My LINC Overview.